Classically, I've read coax data sheets and transcribed the information into an Excel spreadsheet to do cable loss calculations based upon frequency, cable length and cable type.
Recently, I discovered this online tool for Messi & Paoloni coax: https://messi.it/dati/layout/attivo/calc.asp?l=EN
I've had pretty good results with their coax over the last couple of years (and I really like the design of their cable end connectors), so when the time came to purchase some new coax for a special project (multiple frequency use ranging from 3.5 MHz all the way up to 2.4 GHz) I used the above mentioned tool to pick the right coax for me.
This sounds a bit like and ad, but really it isn't. It was just nice to see something other than the usual spec sheet.
Maybe this tool is of some use to you,
73,
Mike VE7KPZ
November 14, 2020
NORAC technical team member and all around smart fellow David Skelhon, VA7SZ has recently written an article outlining the setup and construction of an effective and very space efficient 80M magnetic loop.
Check out David's article here: https://norac.bc.ca/index.php/instruction-guides
As a 4WDABC member, I received the following email blast on November 11, 2020.
I was happy to hear the news about the new 4WDABC frequency. Read below for full details.
I was also very happy to see NORAC's very own Wilf Mulder VE7OHM noted as a supporter of the 4WDABC.
73,
Mike VE7KPZ
NORAC Vice-President, Technical Lead, Education Team Member and avid offroad enthusiast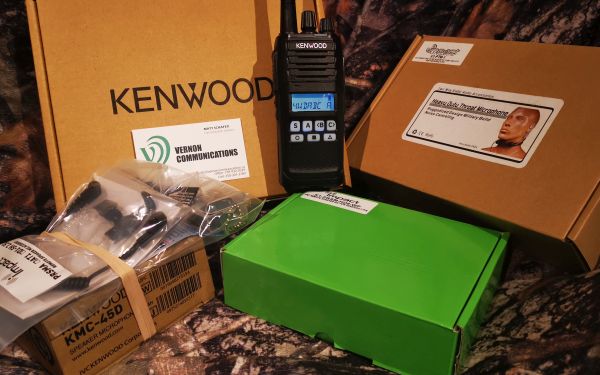 "What kind of radio should I get for the trails?" It's one of the most common questions we get… and the short answer is, "it depends".  
There are so many different types available, each with its own purpose, strengths, and drawbacks. Each purpose requires its own specific type of hardware, and in many cases, specific licensing. Ultimately your decision should start with what you want to use it for: communication in a group? Long range? Staying in touch with other industrial traffic on the backroads? 
To date, this has brought about a dilemma: for industrial communications, you need a radio that carries the Resource Road channels. If you only want to receive, ham radio will suffice, as most models can receive well outside the ham band. But if you want to talk to the big rigs - call your KMs, for example - you need a land mobile radio (also called a "commercial" radio) and the proper license to go with it.
Okay, so that's easy enough… then how do you talk to your buddies on the trail?  Well, you can go with license-exempt options like limited-range GMRS walkie-talkies or good ol' CB for trail chatter.  If you're a licensed radio amateur, you can get your regular ham channels pre-programmed into your commercial radio, but otherwise, you're running separate radios for road traffic and group chatter.
Some wheelers have long argued for one radio that could do both… and now we can offer that!
With a LOT of help from our Corporate Sustaining Member, Vernon Communications Ltd, we have applied for, and received, our own 4WDABC licensed frequency that is now a part of Appendix RR of the ISED spectrum: in short, if you license your land mobile radio for RR channels, you now get the 4WDABC channel for convenient backroads communications in your groups as well.
This greatly simplifies all-in-one backcountry communications for off-roaders province wide! One radio, one license, no course or test required.
In compliance with ISED regulations, we're not giving the frequency details out publicly; for the time being, it will be provided via Letter of Authorization to 4WDABC members, which you can then include with your license application to ISED for Appendix RR. 
To request your Letter of Authorization, please complete the form at https://bit.ly/4wdabcradiochannels
And now for the really cool part!
Thanks to Vernon Communications, and the generous support of Kenwood Canada and Impact Radio Accessories, we have two radio kits to get you started! Each kit includes:
Kenwood NX1200 handheld Radio - NXDN ready, DMR capable
Kenwood KMC-45D Hand Mic
Impact PRSMA in-ear monitor with Hearing Defender inserts (S/M/L sizes)
To commemorate this occasion, we'll draw one winner from among all current paid members to receive one of these kits, WITH the winner's choice of Impact K1-PRSM-HD3-WP or K1-PRSM-HD6-WP waterproof hand mic (the HD6 is a larger model better suited to be operated with a gloved hand). As an added bonus, we'll also include the Impact K1-PTM-1 throat mic.
And to round it out, the 4WDABC will pay your first year's license fee for the radio and have it programmed with RR, LADD, and 4WDABC channels (if you're a licensed ham, we'll load it up with ham frequencies of your choice as well). 
The total retail value of this package is approximately $1,080.
The second kit will be included in a future 19 Days of COVID giveaway - stay tuned and make sure your membership is up to date!
We'd also like to share this video from Kenwood National Sales rep Wilf Mulder: - thank you for the support, Wilf!
July 24, 2020 - Merritt, BC
On Friday, July 24, Lee VE7FET Woldanski and Myles VE7FSR Bruns spent the better part of 20 hours getting the "new" VE7IRN installed and on the air, and linked to the internet through BCWARN, TPARC, and VE7CHW.
The existing antenna at VE7IRN was checked, and found to not really be an antenna in the ham band... so a temporary one was installed.
The duplexer still needs some work, but it is on the air, putting out about 20W after the duplexer.
The controller is part of the AllStarLink network, and is Node 435454.
Remote connectivity from Android/IOS/PC is available, for BCFMCA members only.
Still a bunch of tweaking to do, but at least it is alive! You should be able to work it from Larsen Hill to Helmer on the Coquihalla, and from Merritt to Penask Summit on the 97C.
Also note that VE7IRN is now on Broadcastify, hear the live stream here
You can also check the AllStarLink page for the current Node Status.
For more updates as they come, please visit http://www.bcfmca.bc.ca.
November 12, 2020 - Merritt, BC
Lee VE7FET and Myles VE7FSR made a trip to VE7IRN yesterday, for the last maintenance trip in before winter completely blocks access until the spring. About 2-3in of snow already on the ground.
Replaced a faulty UPS control card, restoring monitoring of the UPS.
Replaced the duplexer. The old Q202G looks like it was probably a "high band" duplexer that was re-tuned, but never had the harness changed. As such, it had excess loss (>2dB) in the ham band. It was replaced with a Sinclair Q3330E (equivalent), with about 1.2dB HP IL and 0.9dB LP IL. A definite improvement in coverage was noted during testing on the way home.
Installed security cameras on site, to monitor site and weather conditions.
NORAC members would like to express big thanks to Lee, Myles and the members of BCFMCA for injecting new life into this the key repeater for the Merritt area.
This repeater is normally used lightly by locals and then one weekend a year, it is depended upon (read: worked hard) for radio support for the Pacific Forest Rally. A properly-functioning repeater is a critical element in the rally's safety strategy.
Summary:
Technical team members went to the VE7EGO site to do the following:
squelch setting change on the VHF DR-2X repeater
power cycle the DR-2X repeaters
general pre-winter checks
Attendees:
VE7WWJ Jane
VE7KPZ Mike
Access:
The usual route was taken to access the VE7EGO Commonage site. Jane and Mike travelled up and down from the site in the Unimog. Lots of livestock were observed on the access along with three mule deer.
Just before heading in to the VE7EGO site, Mike phoned Kevin at 250-744-0732. Kevin is in charge of exploding/disposing of WW2 munitions still in the hillsides. Upon departure from the site, Mike texted Kevin to notify him of our departure. Kevin likes to know both the ins and outs of our visits.
Actions Taken:
Mike opened up the VE7EGO shack and went straight to the VHF DR-2X repeater. He adjusted the squelch setting to one level below the middle.
Mike power cycled both DR-2X repeaters. After powering up, Mike confirmed the new squelch setting for the VHF repeater was indeed saved.
Mike performed a scan of the VHF antenna and then the RX and TX sides of the duplexer with his RigExpert AA-230 Zoom analyzer. He noticed that the RX side of the duplexer appeared to be slightly off. This may explain why this repeater is a little bit deaf to weak signals - desense due to a little bit more TX coming into the RX than expected. The antenna, however, scanned low SWR across the entire HAM VHF band frequency range (<1.16:1).
Mike then did an additional check of the VHF TX with his Surecom SW-102 bridge. SWR on the TX side is low (1.18:1) with TX power at medium.
Lastly, Mike checked the UHF TX with his Surecom SW-102 bridge. SWR on the TX side also low (1.07:1) with TX power at medium.
Mike re-activated the VHF repeater and the proceeded to test it and the UHF repeater locally via the radio in the Unimog - all ok.
While in the shack, Mike noticed that the wired internet connection was again working. We do still plan to move the shack over to HAMwan for internet, but this is great to see for the meantime.
A visual inspection of the shack roof, tower, antennas and feed lines showed nothing abnormal.
Next Steps:
If the weather holds over the next couple of weeks Mike will likely swap in a substitute duplexer for the VHF repeater, however, a day after leaving the 788 meter elevation site, snow fell. We may have to live with a bit of RX desense on the VHF repeater if the site in now inaccessible until spring. 
FYI,
Mike VE7KPZ
NORAC Vice-President 2017-2021, Technical Committee Lead 2020-2021